Board Laminate

Phenolic Compact Grade Laminate is a solid, high pressure and extremely durable decorative building Panel made from layers of quality Kraft papers impregnated with Phenolic resin, incorporating a clear overlay on both decorative faces, and manufactured under high pressure and temperature.
The panel is a high performance material and is used extensively in the construction of Toilet cubicles, cubicles, Toilet showers, showers, rest rooms, rest room cubicles, partitions, rest room partitions lockers, wall paneling etc. Compact laminates offer high resistance to water, heat and scratch.
Features of Compact Laminates
Strong resistance to impact
Long term stability
Non toxic & totally hygienic
Resistant to moisture & steam
Resistant to chemicals
Resistant to heat & cigarette burns
Extremely durable.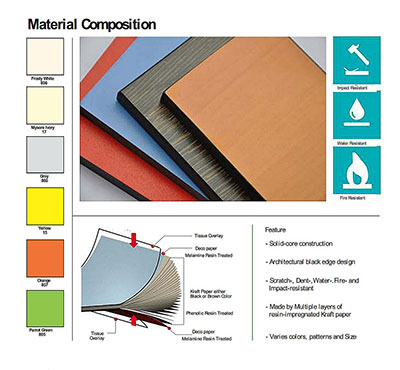 Applications
Multipurpose Compact Laminate has a wide field of applications.