Ceiling Hung Cubicles Manufacturers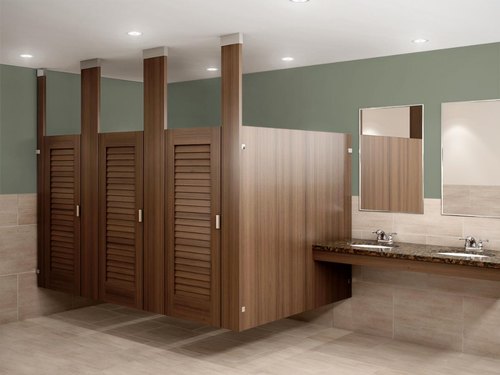 By adding the Classique wings bathroom wall panels to your restrooms can give a classic and splendor look to the restroom space. We provide Ceiling hung cubicles in Delhi to enhance the beauty of your restrooms and make it an appealing space. The luxurious restrooms add to the ambiance of your place and thus using the ceiling hung cubicles can give the desired charm.
The Ceiling hung cubicles in Noida and other locations, provided by us, are best in look, quality, and price. So, let us serve you with our masterwork and make your washrooms look luxurious and classy.
Ceiling Hung Cubicles Manufacturers in Delhi
The ceiling hung cubicles in Gurgaon or any other location, are delivered by us. Our designs will grab the attention of the look of your restroom. The rich feel yet lightweight appearance will give a unique transformation to the washroom area. From strength to durability, we give complete attention to every detail. The entire system of washrooms sits on the ceiling and no part of it touches the ground. If you are looking for the best ceiling hung cubicles in Ghaziabad, contact us right away and get your best quote. You can select from the traditional design or order a customized one, depending upon your choice.
What are the features of our Ceiling hung cubicles in Faridabad and all said locations are:
1. They are totally fire-resistant
2. They are completely abrasion resistance
3. They are anti-bacterial
4. They include the Scratch resistant property
5. Highly durable
6. Easy to maintain
7. They are Graffiti Resistant
8. They consist of the Impact Resistance
So, let us know your location, your requirements of size and design as per your choice or contact us to get details or our standard products. We are also available for after-service requirements. If you find any fault in our product, we take complete responsibility for it. We always focus on quality and customer satisfaction, so reach us now and enjoy our quality services.