Megha Systems (Stylam toilet partitions)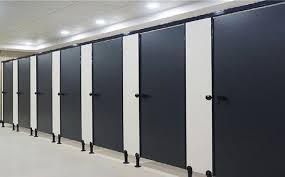 Know the standard of ideal restroom cubicles
Toilet cubicles are the partitions of toilets which is established at minimum area. Stylam toilet partitions in Delhi makes the construction of toilets easy at any place such as schools, college, public toilets, Hospitals, Hotels, restaurants or more. It encourages the basic cleanliness at your working area or living area.
In that way the quality of toiletries are necessary. Megha Systems provides you the best solutions for an ideal toilet partitions. We provide the materials according to our client's requirement in all aspects. That's what makes us a professional provider of qualified Stylam toilet partition in Faridabad. Here is the glance of our durable material that we highly prefer during the construction of toilets.
The panels of toilet partitions are made from three types of various materials. Which are very preferred in toughness, highly water resistance & budget friendly.
1. Solid Grade Laminate (SGL)
It has great anti-bacterial properties. They are also hard wearing & highly water resistant. So, makes it highly durable & easy to clean & the wisest choice in hospitals.
It is also highly prefer for various varieties of colors for suitable interiors. In which its outer sides have melamine resin that allows for various varieties of colors & textures. These panels are created from high quality of multiple layers, Dyed Kraft papers with thermosetting phenolic resins.
These are highly utilized in:
• Spa & shower cubicles
• Locker & changing rooms
• Healthcare & laboratory
• Wet applicators & swimming pools
• Wide temperature areas
2. High Pressure Laminate (HPL)
SGL & HPL, both are the tough duty & durable laminate material. These materials are highly scratch & water resistant for easy to clean technology.
These panels are bonded from both sides with moisture lock technology. These panels are smoothly curved from each sides & completely moisture resistance that makes it free from all kind of stinky smell.
These are highly preferred in:
• Dry Area
• Vanity units
3. Melamine Faced Chipboard (MFC)
MFC is one of the budget friendly materials for toiletries. This one is available in various verities of colors for dynamic color combination & textures. These materials contain easy dry systems & complete moisture lock technology. So its feature of high durability makes it easy to clean & anti-germs.
These are highly preferred materials & products for an ideal Stylam Toilet partition in Noida. Establish your required one for the best comfort & standard at your working area. Megha Systems also provides you the various kinds of washroom accessories to make the interiors of the toilets ideal & best.
Get the best quote of your kind of ideal toilets for the great pace of your business. A decorous Stylam toilet partition in Ghaziabad enhances the quality of your business & work. We provide you a reliable value with better quality. Because we are experienced and professional provider of washroom accessories and set-ups with multiple brands and products. We made the fitting easy & reliable with unexpected decorous interiors. These are highly suitable Stylam toilet partition in Gurgaon that shows the class of your business.