Greenlam Restroom Partitions Manufacturers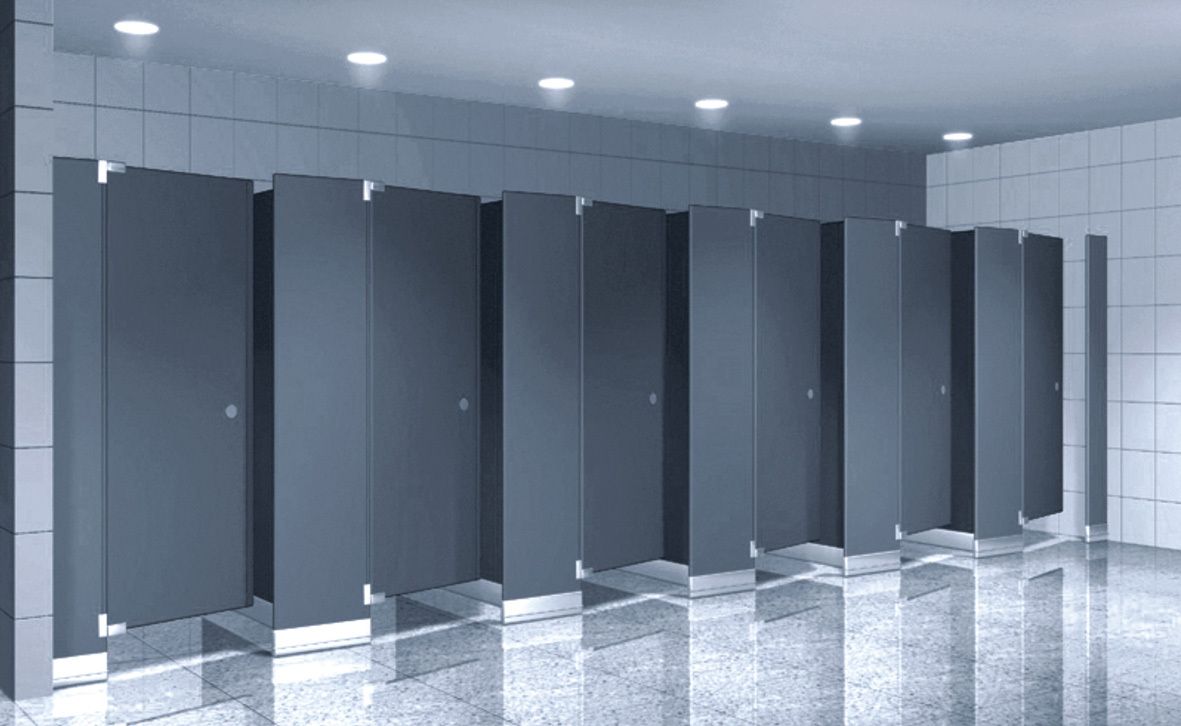 Greenlam is one of India's adding brands of laminates. Greenlam is known for producing hundreds of products which promise a beyond comparison performance. This company has always received appreciation in the industry as well as from customers across the globe.
Greenlam offers a wide range of sizes, shapes, colors, and hues, thus each product promising to make the space appealing wherever Greenlam products are used.
Greenlam Toilet Partitions Restroom, Cubicles
Are you looking for the best option to modernize your toilets and bathrooms at an affordable cost? Greenlam toilet partitions in Delhi can be the best suitable option for your need. The major aim of this company is to fulfill all your requirements of interior designing in a modernized and affordable manner. Some major benefits of preferring Greenlam restroom partitions in Noida are:
1. Hygienically good and easy to maintain quality products.
2. Greenlam provides a wide spectrum of colors for the customers.
3. Equipped with emergency opening provisions
4. Resistant to cigarette burns.
Greenlam Restroom partitions in Gurgaon open up a wide range of new generation products for the customers. Engineered under the most reliable technology, these products person exceptionally good in all conditions. At Greenlam restroom partitions in Ghaziabad, we have a team of highly experienced product experts who are always available to help their customers. With their assistance, your search for best Greenlam toilet partition in Faridabad will surely end Greenlam best quality products and services.
Greenlam is a well-established name in the industry of restroom and locker solutions. The products of Greenlam restroom cubicles in Noida are manufactured with the use of cutting-edge technology, which thereby makes the products highly resistant to diverse climatic conditions as well as heavy traffic. The exclusive range of Greenlam toilet partitions in Delhi is not just about the modern design and aesthetics but is also produced in anti-bacterial and hygienic surroundings.
Greenlam industry in Gurgaon, commits high-quality standards, healthy and hygienically produced product availability.
WHY CHOOSE GREENLAM?
1. Availability of a variety of Options:
Greenlam provides the overall solution for all kind of products required for restroom partitions in Noida. Having a specific range of restroom cubicles for kids, differently-abled people, and senior citizens, Greenlam products will never disappoint you.
2. Tremendous Quality and Affordable Prices:
All the Greenlam restroom cubicles in Faridabad are manufactured in accordance with IS 2046. Numerous sizes, shapes, color, and variety of products are available at affordable cost. Nylon polyamide, stainless steel, and aluminum hardware fitting are the major raw materials used in the production of Greenlam products.
The benefits and exclusiveness of Greenlam restroom cubicles in Ghaziabad is not just limited to designs and variety. Some exclusive features of Greenlam include:
1. Antibacterial grade of products
2. Designed with the aim of better durability and performance.
3. Formulated by using high quality superior pressure laminates.
4. Exclusive raw silk finish products are available.
So, if you wish to avail all the benefits from aesthetic beauty, easy installation and top-notch functionality to hygienic products, Greenlam experts are always available to assist you as per your requirements.